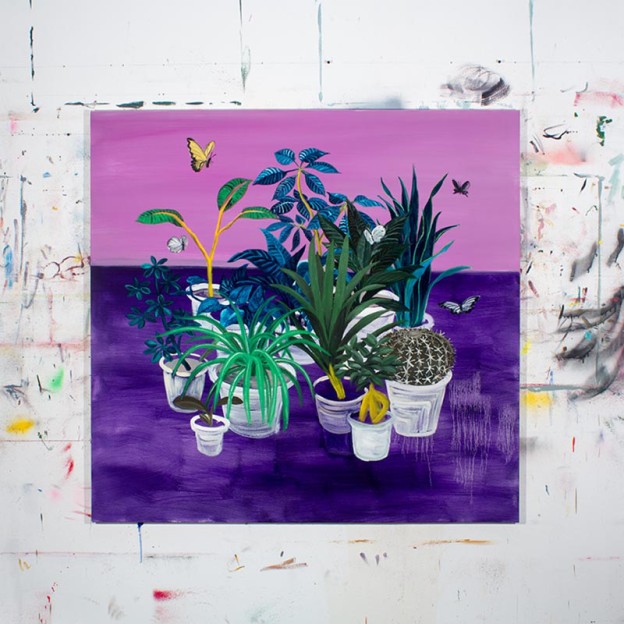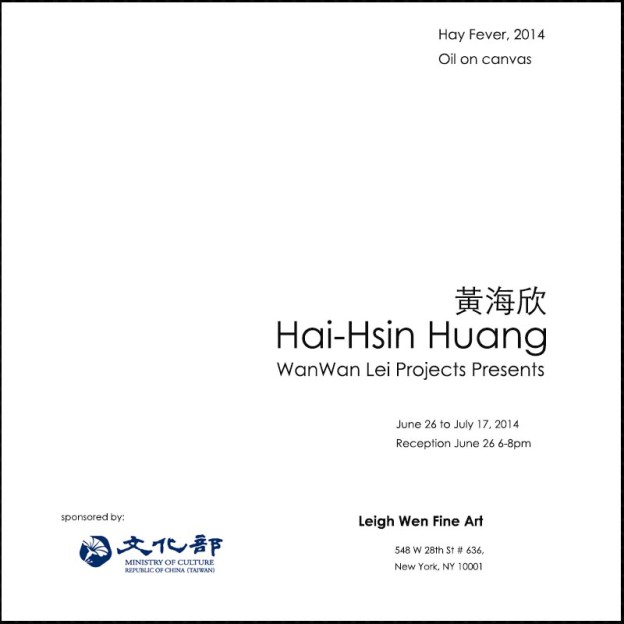 Born in Taipei, Taiwan, 1984. Huang received her BA degree from National Taipei University of Education in 2007. She went on to receive a MFA degree form School of Visual Arts in New York, 2009. Since graduate school, Huang has been living and painting in Brooklyn. Huang is interested in the ridiculousness and fear in society, the absurdity and the loneliness. As part of a generation marked by hedonism, people seem to know more but feel less. Catastrophes become assumptions; we practice suffering and crisis with laughter. Huang tries to highlight the lives of  this easy and comfortable generation, and in particular, their lightness of being.
Her work has been exhibited and collected at museums and galleries in New York, Kyoto, Sydney and multiple cities in Taiwan including ISE Cultural Foundation, White Rabbit Collection, Kyoto Cultural Center, Kuandu Museum of Fine Arts, Taipei Fine Arts Museum.
Hai-Hsin Huang
Born 1984, Taipei, Taiwan.
Lives and works in Brooklyn.
Education
2009 MFA, Fine Arts, School of Visual Arts
2007 BA, Department of Arts, National Taipei University of Education.
Solo Show
2014 <Hai-Hsin Huang x WanWan Lei Projects>, Leigh Wen Fine Art, New York, NY
2013 <Home, Sweet Home>, Project Fulfill Art Space, Taipei
2011 <A Wordless Ending>, VT Art Salon, Taipei
2011 <Comfortably Numb>, ISE Cultural Foundation, New York, NY
Group Show
2014
<Double Fantasy>, Art Issue Projects, Taipei, Taiwan
<Splinter of Life>, Café Showroom x Eslite, Taipei, Taiwan
<The Decay of the Angel>, Kuandu Museum of Fine Arts, Taipei
2013
<Drunk- Pink Tank>, Field Project, New York, NY
<True Illusion, Illusory Truth—Contemporary Art Beyond Ordinary Experience>, Taipei Fine Arts Museum, Taipei, Taiwan
<The Circle Game>, Tunghai University Art Center, Taichung, Taiwan
2012
<Man, Animal, Landscape: Hai-Hsin HUANG, LIN Yen Wei, and LIN Wei-Hsiang>, Eslite Gallery, Taipei, Taiwan
<The Moving Boundary>, Herzliya Museum of Contemporary Art, Herzliya, Israel
<The 10th Taishin Arts Award Exhibition>,MOCA Taipei, Taipei, Taiwan
<Sincere Subversion>,VT Art Salon, Taipei, Taiwan
<Turning a Blind Eye>, Agora Art Space, Taipei, Taiwan
2011
<2011 Taipei Arts Award>, Taipei Fine Arts Museum, Taipei, Taiwan
<After Thought>, Café Showroom, Taipei, Taiwan
<Perceiving>, Taipei Contemporary Art Center, Taipei, Taiwan
<Drawing Now: An Exhibition of Contemporary Taiwanese Drawing>, Hong-gah Museum, Taipei, Taiwan
<Contemporary Classics: A Joint Exhibition of Ten Young Artists>, A Gallery, Taipei, Taiwan
<Art Creation Exchange-Words and Images>,'Ecole cafe, Taipei, Taiwan
<The People's Republic of China—Republic Without People>, Kaohsiung Museum of Fine Arts, Taiwan
2010
<Non-Native New York>, de Castellane Gallery, Brooklyn, NY, USA 
<Vision 2>, Tina Keng Gallery, Taipei, Taiwan
<Colored Glasses>, Da Gallery, New York, NY, USA
<BYOA>, X Initiative, New York, NY, USA
<2010 Young Painters Competition>, Hiestand Galleries, Oxford, Ohio, USA
<Inaugural Exhibition>, Artsite, Miami, FL, USA
2009
<The Williamsburg Art Wok>, Multiple Chinese Take Out Restaurants, Brooklyn, NY, USA
<Weak Painting>, Kuandu Museum of Fine Arts, Taipei/ Da-Xiang Gallery, Taichung, Taiwan
<A New Currency>, 55 Delancey st, New York, NY, USA
<Welcome to the Desert of the Real>, Tunghai University, Taichung, Taiwan
<Heterotopia>, Visual Arts Gallery, New York, NY, USA
2008
<Amuse Art Jam>, Kyoto Culture Museum, Kyoto, Japan
<Cold Q>, Kuandu museum of fine arts,Taipei, Taiwan
< The Empire Strikes Back>, Impression Art Gallery, Taipei, Taiwan
2006
<Object Boundary>, Studio Wo-Long 27, Taipei, Taiwan
2005
<503, Slight Condition X 9> Nan Hai Gallery, Taipei, Taiwan
<503, It's all because of Lian, De-Cheng>, NTUE, Taipei, Taiwan
Awards/ Residency Program
2013 International Studio & Curatorial Program (ISCP)
2013 Vermont Studio Center
2011 Taipei Arts Award, Honorable Mention
2011 Art Takes Miami, Finalist
2011 10th Taihsin Awards, Nominated
2009 11th Miami University Young Painters Competition, Finalist
2008 Amuse Art Jam, Finalist
2006 4th Taoyuan creation Award, Finalist
2005 3rd Taoyuan creation Award, Selected